Influenza reached all Army training camps in the United States. Let's Explore August, September and October of 1918.
<! ========= Cool Timeline Free 2.6.1 =========>
August 27th
Commonwealth Pier in Boston "Three cases of influenza were committed to the sick list."
Eight Cases
Eight cases were reported.
58 Cases
58 cases were reported, 15 so ill they were transferred to the U.S. Naval Hospital in Chelsea.
Three Medical Officers Fell Ill
Three medical officers who had seen the patients also fell ill.
Camp Pike: For the first half of September, the Hospital at Camp Pike saw an average of 17 new patients a day with acute Bronchitis. Then that number doubled, and tripled. It had soared 797 patients on the 26th of September. Influenza and Pneumonia would claim 466 Camp Pike Soldiers.
In 1918, two new army posts in central Arkansas had a population one and half times bigger than Little Rock when the pandemic struck. Camp Pike (now Camp Robinson) and Eberts Training Field in Lonoke county lost 466 soldiers to the epidemic.
Infirmaries were Overwhelmed

The Camp Devens' base hospital and regimental infirmaries were overwhelmed with thousands of sick trainees. (#2 on Map)
Camp Devens — Physicians performing autopsies described influenza pathology as unique, characterized by the intense congestion and 'hemorrhage' of the lungs. One doctor during an autopsy, turned away from the blue, swollen lungs with wet, foamy, shapeless surfaces [and] became excited and nervous, saying, 'This must be some new kind of infection or plague.'
Hanger 10 at Eberts Field (pictured) was used as a recovery ward. The field was located 20 miles east of Camp Pike and 1.4 miles northwest of Lonoke, Arkansas.
Camp Grant, IL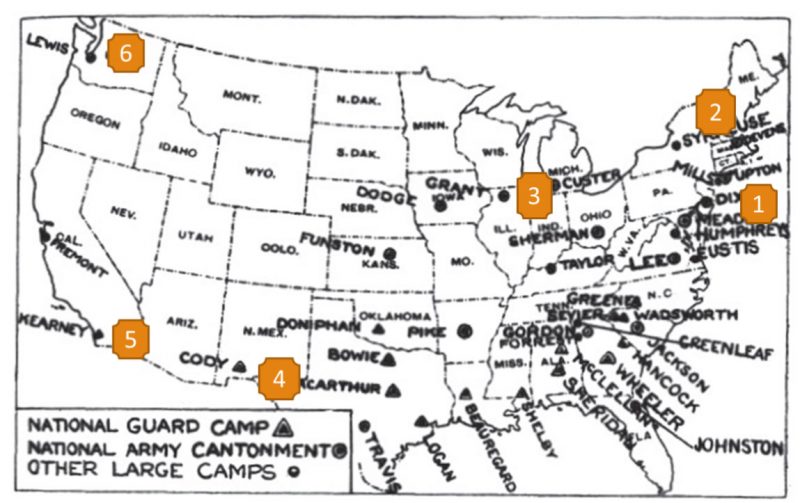 Camp Grant, IL (#3 on Map).
From Sept 20th, for 8 days the flood of new patients averaged 1,000 a day into a 2,000 bed hospital. Emergency actions cleared barracks and a hangar at Eberts Field to receive 1,400 of the bed cases.
To make matters worse 62 of the 240 medical personal contracted influenza too.
Camp Cody, NM
Camp Cody, NM. (#4 on Map)
Camp Fremont, CA
Camp Fremont, CA. (#5 on Map)