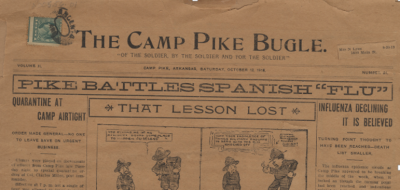 In 1918, two newly built Army Posts; Camp Pike (now Camp Robinson) and Eberts Training Field in Lonoke County had a population one and half times the size of Little Rock when the Pandemic struck.
"With 52,000 men at Camp Pike, its infirmary began admitting up to a thousand men a day. The camp was sealed and quarantined, and the commandant ordered that the names of the dead not be released to the press."
For the first half of September, the Hospital at Camp Pike saw an average of 17 new patients a day with acute Bronchitis. Then that number doubled, and tripled. It had soared 797 patients on the 26th of September.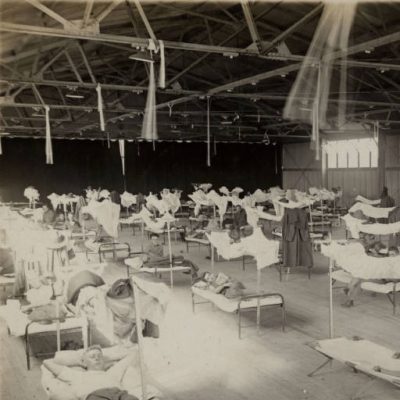 From Sept 20th, for 8 days the flood of new patients averaged 1,000 a day into a 2,000 bed hospital. Emergency actions cleared barracks and this hanger to receive 1,400 of the bed cases.
To make matters worse 62 of the 240 medical personal contracted influenza too.
Still image is of Hanger 10, used as a recovery ward at Eberts Field. (Eberts Field is a former military airfield, located 1.4 miles (2.3 km) northwest of Lonoke, Arkansas.)
The coffins "were just every place."
Recalled Beulah Justice-McAnnally, on seeing the soldier's bodies being returned to their families in the Chattanooga Train terminal during the Influenza Pandemic of 1918-1919.
Of the almost 900 Arkansas Soldiers who died in WWI, 47% died of Illness.